Frey is regarded as one of the premier Agricultural Contractors in Ontario. Frey brings a spirit of responsibility and innovation that makes us a chosen repeat partner for so many of our agricultural clients.
We understand the key challenges faced by farmers and producers. With Industry leading designs and construction technology, we manufacture and construct outstanding agricultural facilities for our clients.
Frey is a long-time member of The Ontario Farm Builders Association. We understand the unique challenges farmers and producers face, balancing multiple demands including animal health, productivity, specialized equipment, waste management and future expansion.
Whether you are considering a new facility, or expansion to an existing one, we understand the relationships between technology, equipment, workflow, capacity, streamlining operations, efficiency and profitability.
Our Equine specialties include horse stables and riding arenas, run-ins, stalls, bank barns, storage buildings, exercise rings and estates.
Our agricultural design-build and general contracting experience includes:
DAIRY • EQUINE • LIVESTOCK • POULTRY • EQUIPMENT DEALERSHIPS • STORAGE BUILDINGS
PREMIER EQUIPMENT
Project: 54,000 sq. ft. John Deere Dealership
Location: Elmira, Ontario
Sector: Agricultural
Contract Type: Hybrid Fixed Price / Construction Management
PROJECT OVERVIEW:
Premier Equipment, Ontario's largest John Deere dealer, selected Frey Building Contractors to construct their 54,000 sq. ft. dealership and head office. The project consists of a large 6,800 sq. ft. showroom, 12,380 sq. ft. parts storage area, and a 25,000 sq. ft. separate wash bay and repair shop. The concrete floor in the pre-engineered shop has in-floor heat and 35 offices are located on the second floor. The main entrance features full height glass, heavy timber, and posts clad in stone. The front half of the building is finished in stone on the bottom 5 feet and stucco finish above. An expansive landscaped, grassed area is designed for the display of John Deere's product line while the paved area is designed to accommodate the movement of large equipment without congestion or safety concerns.
Wallenstein Feed & Supply Ltd.
Project: Mill 4
Location: Wallenstein, Ontario
Sector: Industrial
Contract Type: Fixed Price
PROJECT OVERVIEW:
For almost 60 years Wallenstein Feed & Supply (WFS) has been manufacturing quality feed for the Ontario livestock industry. WFS is a valued, repeat client of Frey Building Contractors since 1998.
WFS selected Frey for the structural construction of Mill 4, an impressive state-of-the art facility. WFS is the largest independent, family owned livestock feed mill in Canada and runs 24 / 6. The official opening ceremony and open house for Mill 4 was attended by 2,000 people. The volume of production requires 100 trucks coming in and out every day.
The construction statistics for Mill 4 speak to the size and complexity of the project:
87,000 metric tonnes of granular materials
Contract documents totaling 4,450 linear feet of paper
A 14,000 square foot warehouse with a robotic palletizer and 800 racking spaces
Interior inbound and outbound truck weigh scales
A 26 foot deep basement
Building height of 130 feet from the ground, and 170 feet to top of the elevator discharge
3,843 meters of concrete
262. 56 tons of rebar
708.1 tons of structural steel
72,238.5 millwright man-hours
65,000 Frey labour hours
18 miles of welding rods
244 kilometers of electrical wire
102 doors
487 electric motors totaling 5,098 connected horsepower
Project: Renovation of 100 Year Old Barn
Location: Guelph, Ontario
Sector: Agricultural
Contract Type: Construction Management
PROJECT OVERVIEW:
This project is an example of Frey's capabilities with renovating old agricultural buildings, and turning them into functional, beautiful facilities that combine modern updates and amenities, while preserving the unique rural features and character of the original construction. Frey Building Contractors was selected as the construction manager to renovate a barn with a 100 year old foundation, and convert it into a recreational clubhouse facility. Some of the features of this unique project include; transforming the barn loft into a clubhouse facility, installation of a modern kitchen, constructing a raised mezzanine area for a television lounge, adding new washrooms in the lower barn level, and installing a state of the art audio and video system throughout. The interior is lined with tongue and groove pine, and the exterior is finished with metal roofing and board and batten siding on the gables and dormers. 20ft wide by 10ft high sliding glass doors lead out to a 750 sq. ft. deck, overlooking the tennis courts. The project includes a 22ft by 35ft outdoor kitchen structure featuring exposed timber construction, masonry half wall, gas grill and pizza oven.
Project: Various Projects
Location: Breslau, Ontario
Sector: Agricultural
Contract Type: Fixed Price
PROJECT OVERVIEW:
Since arriving from the Netherlands in 1996, the Grootendorst family have built an impressive dairy farm operation, and for over 16 years Frey Building Contractors has been the Grootendorsts' contractor of choice for their expansions, additions, and various construction projects. One of the largest projects is a free stall barn for 600 cows. The barn includes alley manure scrapers to a raceway collection pit, and has a double 16 herringbone parlour with a rapid exit design. The project included several large concrete manure storage tanks, and concrete bunker silos. Other projects over the 16+ years include; calf barn addition, heifer run-in barn, bunk silos, an implement shed and commodity storage area. The Grootendorsts' have also entrusted Frey with undertaking renovations in their personal homes.
Fairfield Estate Equestrian Centre
Project: Horse Barn and Arena
Location: King City, Ontario
Sector: Equine
Contract Type: Stipulated Price
PROJECT OVERVIEW:
The Fairfield Estate Equestrian Centre is a gorgeous, world class Equine Facility ideally located in a secluded enclave, beautifully landscaped with mature trees, and sprawling lawns. The architectural design and details are all inspired by historic European tradition. Frey Building Contractors was selected to construct this unique project which includes a 24 stall, 11,195 sf horse barn, 1,215sf service building, and a 80' x 204' arena. The level of detail and craftsmanship required to construct this project was very high, and illustrates Frey's capabilities with building top tier, luxurious Equine Facilities. Design and materials specifications included; classical limestone stables feature, courtyard, Palladian windows, cathedral ceiling, large custom made stalls and herringbone patterned floors. The expanse of the facilities includes; main barn, feed rooms, tack rooms, laundry rooms, trophy room, jump equipment storage and a 35,000 gallon fire reservoir.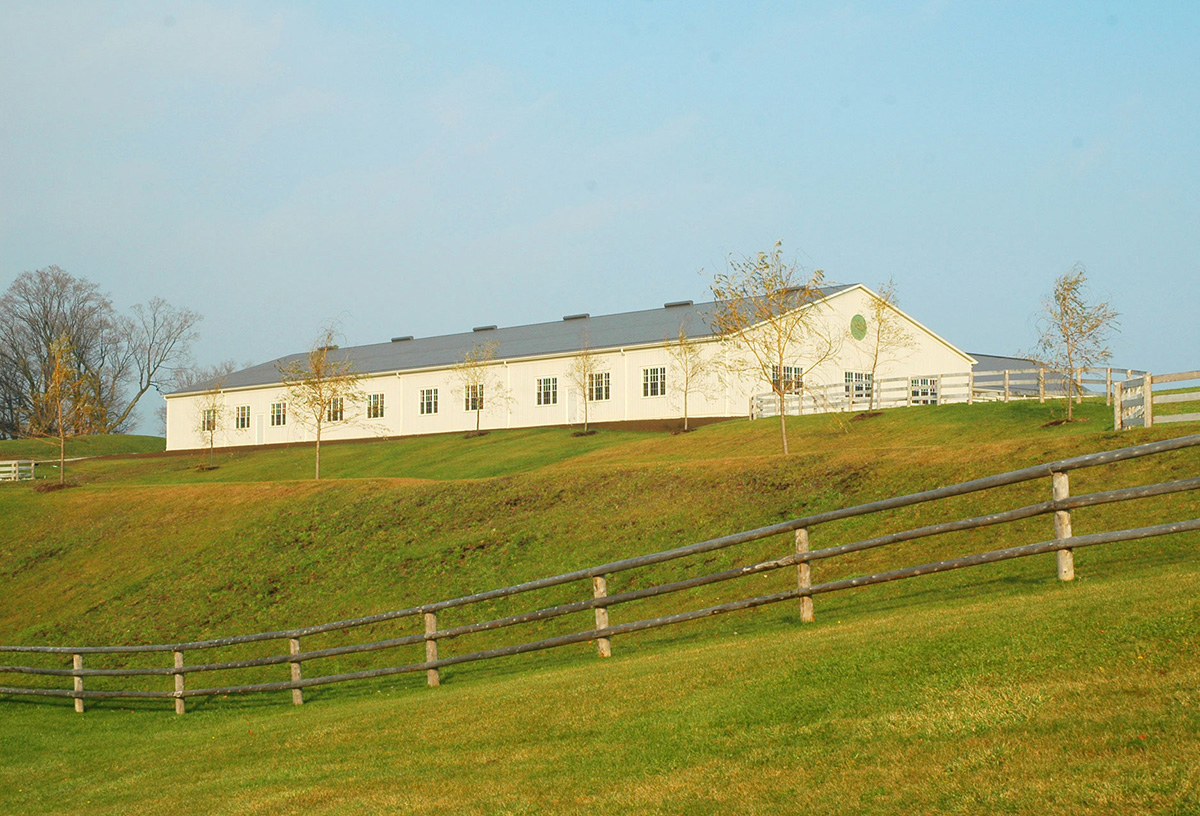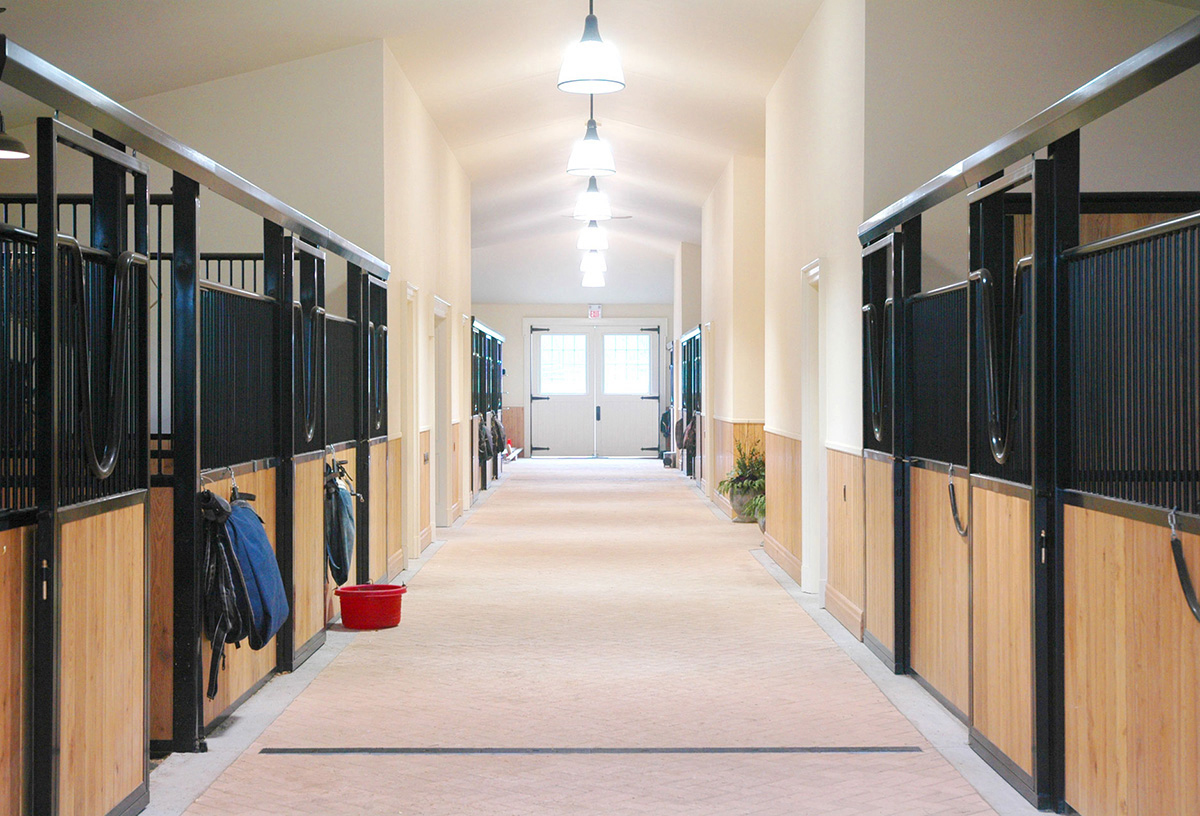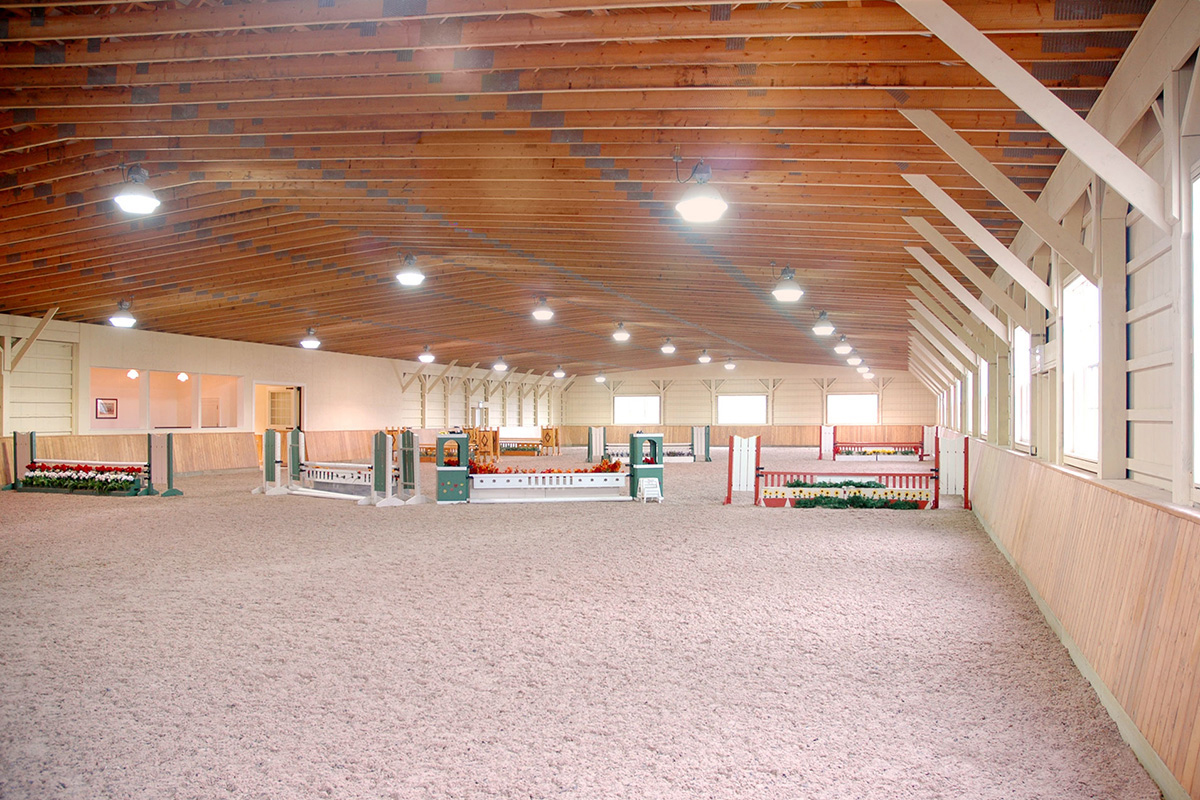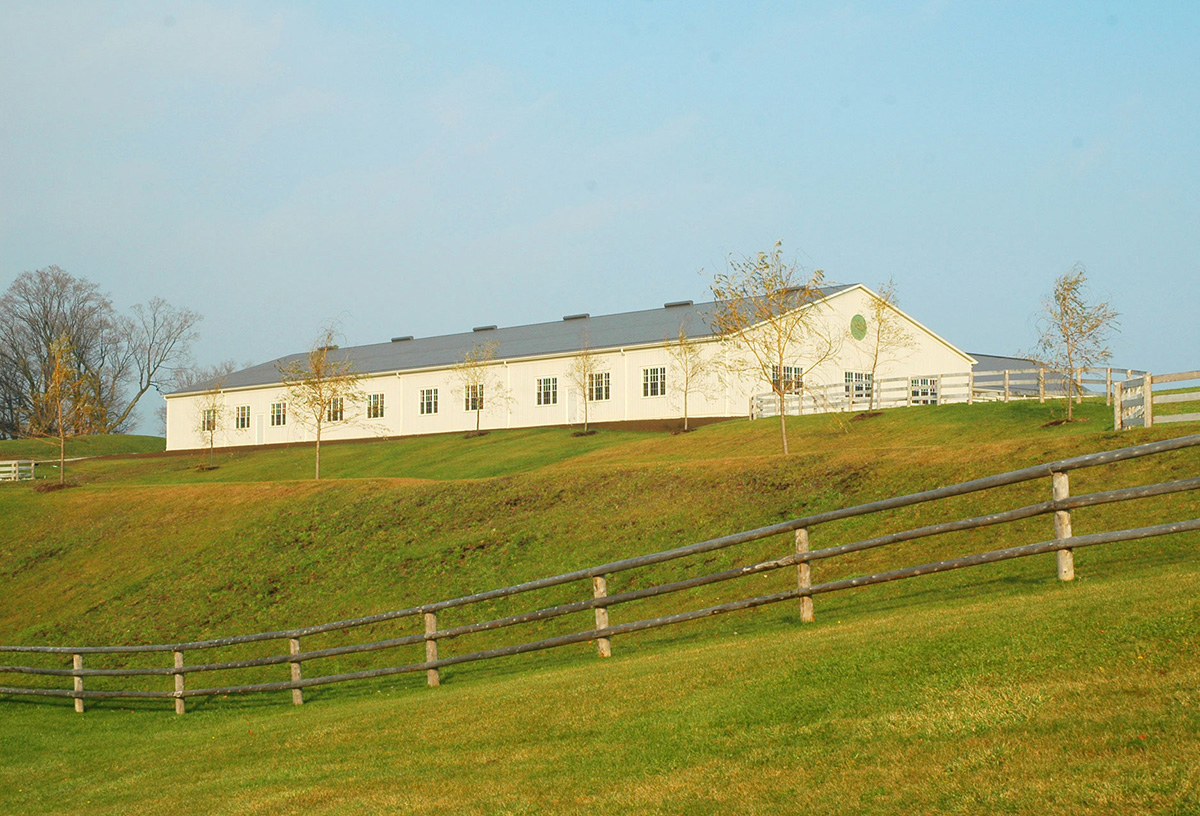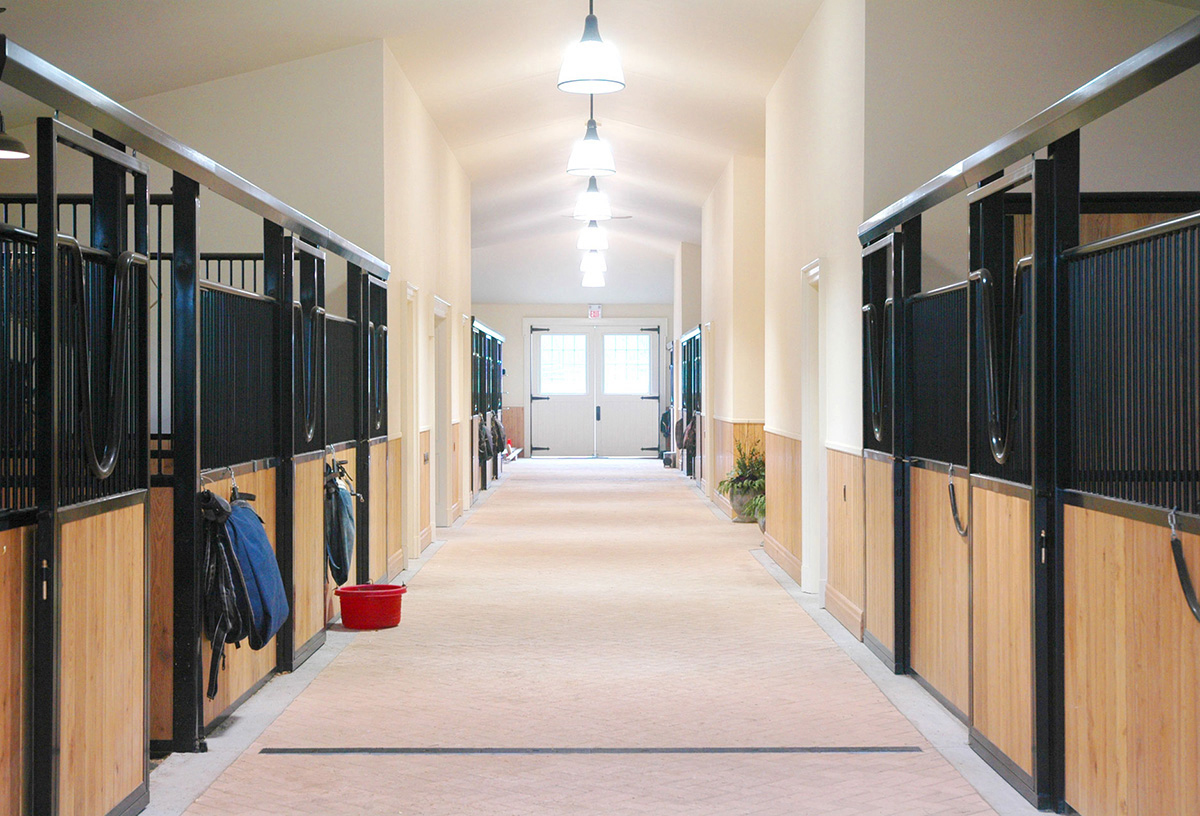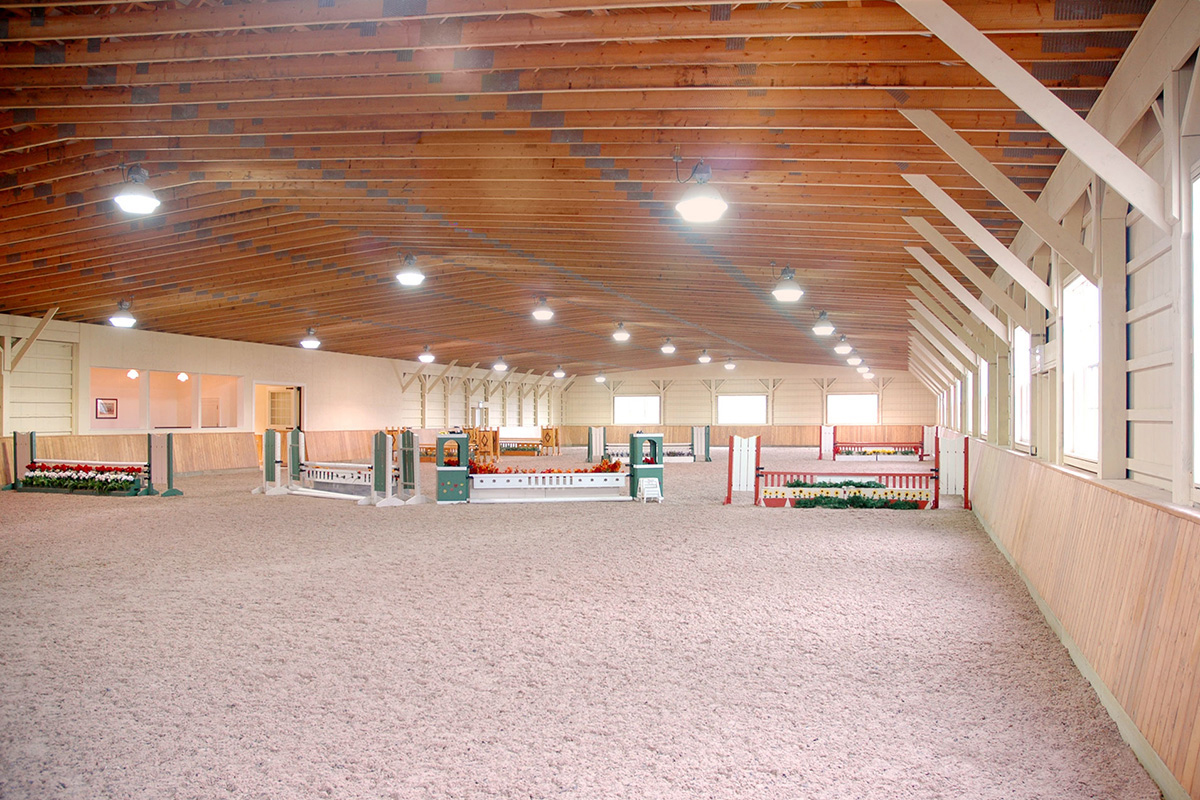 Project: Equestrian Facility
Location: Burlington, Ontario
Sector: Equine
Contract Type: Stipulated Price
PROJECT OVERVIEW:
Trinity Farms is nestled on a beautiful property in the protected land of the beautiful Niagara Escarpment. The equestrian facilities at Trinity are purpose designed, built and operated for developing top- class horses, and riders for all levels of competition. Recognized for our expertise in constructing outstanding Equine facilities, Frey Building Contractors was selected to construct the stables and barn. These facilities are unique in that they incorporate features designed to maximize the quality of life for the show horses. Specialized features include; classic Equine custom designed stall fronts, doors lined with rubber; each 12'x12' stall is rubber-matted and includes a large window. The aisle way and entrances to the barn are constructed from rubber-brick tiles. The owners of Trinity have been a valued client of Frey for over 12 years, with various projects completed in the barn, arena, staff house, and their personal residence.
Hanson Heritage Barn
Project: Hanson Heritage Barn
Location: Kitchener, Ontario
Sector: Agricultural
Contract Type: Fixed Price
PROJECT OVERVIEW:
This unique project is located close to Parks Canada's Historic Pioneer Park Memorial Tower, and backs on to the beautiful Pioneer Tower Natural Area. Our client selected Frey Building Contractors to transform a Heritage designated barn into a stunning residential apartment. Obtaining a building permit for the project was very challenging for our client, as it required both a minor variance and approval from Kitchener's Heritage Committee. Working closely with our client on the design and materials selections, we transformed the old and run down barn into a guest residence with modern amenities and updates, combined with an inviting rural character. Some of the features of this one-of-a-kind project include repointed original stone foundation, board and batten siding, a glass wall opening on to a raised deck, custom made interior & exterior doors, a loft bedroom and post and beam features.